Trebinje is located in the southernmost part of Republic of Srpska and Bosnia and Herzegovina. It features mediterranean climate with 260 sunny days, old town quarter and bridges from 18th century, great number of religious objects from various time periods and The City of Sun aqua park.
Going out of Mostar, you'll be riding on an old Vienna to Dubrovnik railroad, now-days a notable paved cycling route popularly named after the Ćiro train. The first 50 kilometers of the route are pretty flat, after which you'll be greeted by a 10 km climb with spectacular views over Hutovo blato Nature Reserve.  The town of Ravno, previously one of the main train stations, now presents an oasis for cyclists on the Ćiro route (more on that below). After some more flat road riding, you will reach CP5 in the heart of Trebinje.
Intermediate Checkpoint @ 442 km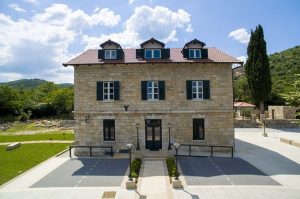 The aforementioned train station in Ravno, now-days a unique Hotel named Stanica (Station) Ravno, will once again serve as a stop for keen travellers on this route, like it used to do 150 years ago. This is an intermediate checkpoint meaning you won't get your car stamped here but the hotel will provide refreshment for all the riders at this enjoyable location.