Jahorina is a mountain and ski resort located near the municipality of Pale, Sarajevo. Part of the Dinaric Alps, it has a summit elevation of 1916 meters and presents the highest point of B-HARD Ultra Race. Jahorina hosted the Women's alpine skiing events of the 1984 Winter Olympics and 2019 EYOF.
Road to CP8 will definitely separate men from the boys. Straight out of Višegrad you need to tackle a 17 km climb with 50 bends and over 1000 m of elevation gain, then, a bit later on, a 21 km drag up to 1170 m/alt awaits you, followed by a hairpin-riddled downhill section. Only then will you be presented with a 16 km climb up to Cima Coppi of the route @ 1670 m, with a very steep last km. You will be very glad to have reached CP8 and enjoy a nice refreshment at Guesthouse Rajska Vrata (The Gate of Heaven).
Intermediate Checkpoint @ 662 km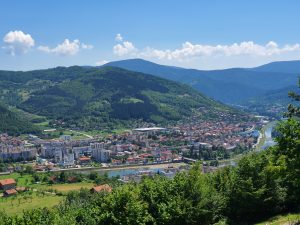 The city of Goražde is the only location on the route that you will pass through two times! And not just that but it splits the long segment between CP7 and CP8 in half *and* provides you with nice and handy refreshment, prior to yet another demanding climb of the route.